Tribute to Lake District fatal fall victim Kevin Ryan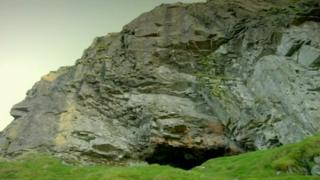 The family of an "experienced" walker who died after falling about 500ft (152 metres) in the Cumbrian fells has paid tribute to him.
Kevin Ryan, 50, from Cleethorpes, was at Priest's Hole cave when he lost his footing and fell down the face of Dove Crag on Saturday at about 21:00 BST.
He was with eight friends who were settling down for the night.
His family said the entire group "were very well equipped" and My Ryan had "passed away in a tragic accident".
In a statement, the family described Mr Ryan as an "inspiration" and an adventurer who "never sat down".
"He loved climbing, mountain biking, road biking, scuba diving and squash. At 50 he took up two new sports by joining a local kayak club and also signed up for a boxing match to raise money for charity."
"We would all like to thank the mountain rescue team for their continued help. Their actions on the mountain and the empathy they have shown is tribute to the amazing job they do."
A team of about 30 rescuers, which included search dogs and a helicopter with heat-seeking equipment, led the rest of the group to safety in a seven-hour operation.
Mike Blakey, leader of Patterdale Mountain Rescue, said Mr Ryan had "slipped from a ledge and fallen approximately 150 metres vertically and had sustained fatal injuries".
He said there had been an increase in visitors to the Priest's Hole since it featured in a BBC documentary and warned people to be cautious.