Gull GPS 'backpacks' assess Barrow wind turbine effects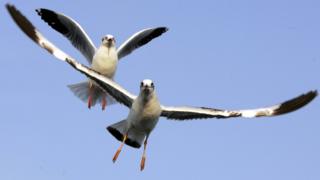 Gulls have been fitted with GPS "backpacks" as part of a project assessing the impact offshore windfarms have on birdlife.
The scheme will track their movements around Walney Island at Barrow, Cumbria where hundreds of turbines are located 12 miles (19km) off-shore.
The two-year scheme will see tracking tags placed behind their wings.
Researchers are studying birds from the South Walney Nature Reserve colony as well as gulls from town rooftops.
The project is being run by the British Trust for Ornithology (BTO) and Danish firm Dong Energy, which is currently extending the windfarm.
'Blades do kill'
Emily Scragg, who is leading the project for the BTO, said: "The project is looking at how birds are nesting in the Barrow area, how they interact with the turbines and how they forage.
"It has the potential to get some really interesting data. For example, how do the urban birds differ from those in the colony at Walney?
"We know turbine blades do kill birds. It's just a question of what species, how many and how does that impact on bird populations.
"Gulls are quite large and forage out at sea meaning they have a greater opportunity to interact with the turbines.
"They're also declining, so a large number of deaths would impact them quite badly."
The satellite tags were fitted during the gulls' summer breeding season.
At a public meeting earlier this year to discuss the Walney offshore expansion, concerns were raised about the impact turbines at sea might have on birdlife.