Morecambe Bay midwife received 'irregular' payoff deal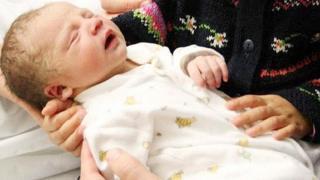 A former midwife at a scandal-hit maternity unit received an "irregular" redundancy deal and a promise not to be investigated, a review has said.
Former maternity risk manager Jeanette Parkinson was "significantly overpaid" when she left Morecambe Bay Hospitals Trust in 2012, it says.
Ms Parkinson and other midwives were accused of colluding over evidence given to an inquiry into baby deaths.
The deal has been highlighted in the Health Service Journal.
Ms Parkinson was one of the midwives caring for newborn Joshua Titcombe, who died at Barrow's Furness General hospital in Cumbria in November 2008.
He was one of 11 babies and one mother to die after being treated at the trust's hospitals over a nine-year period.
A later inquiry led by Dr Bill Kirkup found that a "lethal mix" of failures at the trust led to their "unnecessary" deaths between 2004 and 2013.
He said Ms Parkinson provided "model answers" to her colleagues ahead of an inquest hearing into Joshua's death, which led to a "distortion of the process".
Now an internal review into her departure, ordered by chief executive Jackie Daniel, who joined the trust in August 2012, has revealed "fundamental flaws" in procedures and governance.
No exact figures have been disclosed but the review states that under the terms of the deal, Ms Parkinson "appears to have been significantly overpaid (by as much as 14 months)". She also claimed 470 hours of overtime pay, which the review says "was accepted without any challenge".
The agreement also said that as Ms Parkinson took early redundancy, the trust "agreed not to commence an internal investigation into the employee's performance as maternity risk manager".
Ms Daniel said she was "desperately disappointed" that Ms Parkinson was not investigated by the trust at the time and has referred the matter to the Nursing and Midwifery Council (NMC) and the Care Quality Commission (CQC).
The internal review concluded: "What is clear is that if there were any tangible and evidence-based concerns about Jeanette Parkinson's performance and conduct in her role, these were never formally documented or looked into.
"There is no evidence of it [the deal] being approved or discussed through other internal governance processes."
The BBC was unable to contact Ms Parkinson, who is the subject of an ongoing NMC investigation, for comment.