RSPCA condemns Windermere heron air rifle attack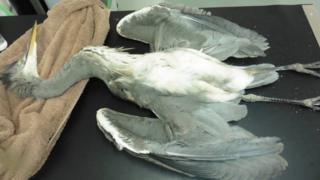 An animal charity has described it as "incredible" that anyone would take pleasure in harming an animal, after a heron was targeted with an air rifle.
The water bird was found distressed and in pain in Bowness-on-Windermere, Cumbria, on Wednesday.
It was taken to a vet, where an X-ray revealed that a bone in a wing had been fractured by a pellet.
The injury was so severe it was decided that the most humane option would be to put it down.
RSPCA inspector Will Lamping said: "Sadly, wild animals and birds are vulnerable to such attacks.
"The injuries these weapons cause are devastating and it is incredible to think someone would take pleasure in harming an animal in this way and causing it to suffer."
"We would like to remind people that under the Wildlife and Countryside Act if if someone is caught deliberately using an air gun to injure an animal they can face up to six months in prison and/or a £5,000 fine."