'Creepy clowns craze': Girl, 13, threatened with rape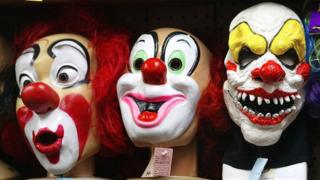 A 13-year-old girl was threatened with rape and having her throat cut, by a so-called clown prankster, police said.
The teenager, from Kendal, Cumbria, received the messages via Instagram, according to Cumbria Police. A 13-year-old boy has been arrested.
The force said it had received 23 reports of "creepy clowns" incidents in the past 24 hours alone.
Other reported incidents involved schoolchildren being chased and a church choir practice disrupted.
A force spokesman said the 13-year-old boy had been arrested on suspicion of making a malicious communication and released on bail.
Police throughout the country have been inundated with reports of "clowns" jumping out, chasing people and even carrying weapons - and have warned them they could face action.
Distress and fear
The latest reported incidents in Cumbria include:
A man wearing a white mask in Millom following a group of young children. A 23-year-old was later reported for a public order offence
An 11-year-old girl chased by a clown carrying an axe in Workington
A man dressed as a clown jumping out of a car, also in Millom, and frightening a woman
A Carlisle teacher reporting a nine-year-old pupil had been chased by three adults in clown masks
A church choir practice in Barrow being disrupted by youths dressed as clowns.
A force spokesman said: "We are continuing to receive reports of the clown craze, which is causing distress and fear to people in our community.
"We appreciate that the majority of the public understand the impact and harm that this is causing, particularly to children.
"We are hoping that this craze will pass this week and we would urge the small minority of people still taking part to stop.
"Dressing up as a clown and deliberately trying to scare and intimidate others is causing a lot of distress to people and we will not tolerate it.
"This prank could lead to arrests for a public order offences, possession of offensive weapons or even assault."
The fear of clowns, also known as coulrophobia, is said to be one of the most common in the UK.
The craze began in the United States last month, with reports of incidents in the UK emerging soon after.