Cumbria PCC Peter McCall 'embarrassed' at speeding offence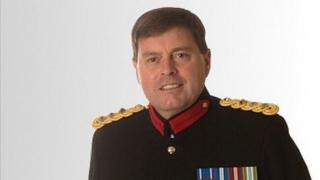 Cumbria's police and crime commissioner has said he is "embarrassed" after being caught speeding.
Conservative Peter McCall said he was caught driving at a speed of 36mph in a 30mph zone while on holiday in August.
The married former regimental colonel from Wigton said he had opted to attend a speed awareness course later this month.
In a statement he said: "I believe that you should always speak the truth no matter how difficult a situation."
Mr McCall was elected in May after polling 41,345 votes ahead of Labour's Reg Watson, who totalled 30,437.
Mr McCall's statement went on: "I am obviously embarrassed by this offence.
"Speeding is one of the consistent issues that people raise with me across the county.
"I am fully aware of the negative impact that speeding can have on peoples' lives and that makes the disappointment even more hard hitting for me."
He has referred himself to the Police and Crime Panel and notified the Independent Police Complaints Commission (IPCC).