Health review recommends service cuts in west Cumbria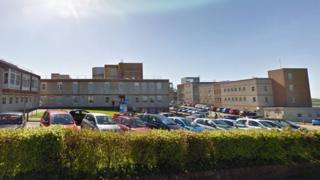 A review of health care provision could see services reduced in West Cumbria and the closure of in-patient beds at three community hospitals.
The review, by NHS trusts and service providers, follows concerns about standards, overspending and recruitment of trained staff.
Proposals include removing consultant-led maternity care from the West Cumberland Hospital in Whitehaven.
Alston, Maryport and Wigton community hospitals would lose in-patient beds.
For more on this and other stories affecting Cumbria visit our Live page.
The report, which is the subject of a 12-week public consultation, was produced by the Success Regime - a body set up to examine ways of improving health care in north, west and east Cumbria.
Midwives have already warned that mothers and babies "may die" if consultant-led maternity care is axed at the West Cumberland Hospital.
'Safety and quality'
But NHS bosses in the county say current provision is "unsustainable", with trusts in the area predicted to overspend by about £163m a year by 2020.
The report, which also recommends that more emergency, children's and stroke services are moved from Whitehaven to Carlisle, says the planned changes will reduce costs, mean more people can be treated in the community or in their own homes and ease an ongoing recruitment crisis.
The report concludes: "Some people might want to see much more emergency surgery and trauma provided at the West Cumberland Hospital in the way it was provided more than five years ago.
"We do not believe, however, that this is either sustainable in staffing terms or that it would deliver care that was acceptable to regulators and clinicians in terms of safety and quality."
The report acknowledges that some patients will face longer travelling times for treatment and that significant improvements would have to be seen in ambulance transfer arrangements.
Correction: This story has been amended to make clear that no hospitals will close although some services could be lost.