Seathwaite 'emergency lifeline' phonebox will not be removed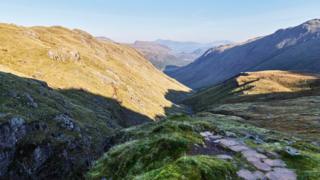 A "lifeline" phonebox in a remote Lake District hamlet will not be removed following a plea by a mountain rescue team.
BT proposed taking away the public payphone in Seathwaite, saying it was was rarely used.
Keswick Mountain Rescue Team argued it was essential because of a lack of mobile signal in the Borrowdale Valley.
BT said it had now established "the removal of the payphone could prevent a call to the emergency services".
'378 calls'
In a post on its Facebook page the rescue team said: "Although this phonebox may get little day-to-day use in this age of mobile phones, it has been, and still is, a real lifeline during emergencies.
"There is no phone reception on any network at the head of the valley and so it remains the only public form of communication to the police and mountain rescue."
BT is reviewing its payphones nationally as it said usage had dropped by 90% in the past decade.
As well as the number of calls made, the firm said it took into account factors such as maintenance costs.
It opened a public consultation over the proposed removal of the Seathwaite telephone but after concerns were raised it reversed its position.
In a statement, it said: "Between 1 September 2015 and 31 August 2016, 378 calls were made from this public telephone, none of which were emergency calls.
"However, during our removal process we have established that there is no mobile signal at this location and removal of this payphone could prevent a call to the emergency services.
"Therefore we will not be seeking to remove this payphone for the foreseeable future."