Seathwaite phone box an 'emergency lifeline', says mountain rescue team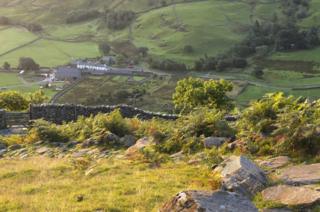 Plans to remove a "lifeline" phonebox from a remote Lake District hamlet have been opposed by a mountain rescue team.
BT says the public phonebox at Seathwaite has "had very little use over a significant period of time".
But Keswick Mountain Rescue Team says it is essential because of a lack of mobile phone reception in the Borrowdale Valley.
It is urging people to register their objections with Allerdale Council.
'No reception'
In a post on its Facebook page, the rescue team said: "Although this phonebox may get little day-to-day use in this age of mobile phones, it has been, and still is, a real lifeline during emergencies.
"There is no phone reception on any network at the head of the valley and so it remains the only public form of communication to the police and mountain rescue."
BT said it was reviewing its payphones nationally as usage had dropped by 90% in the last decade.
BT said: "In all instances where there's no other payphone within 400 metres, we'll ask for consent from the local authority to remove the payphone.
"Where we receive objections from the local authority, we won't remove the payphone."