Author Hunter Davies sells Potter and Wainwright collection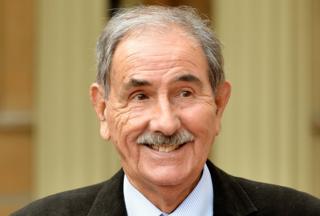 Cumbrian memorabilia and art including pieces from Beatrix Potter, Alfred Wainwright and artist Sheila Fell have sold at auction for more than £80,000.
Carlisle-born author Hunter Davies no longer had room for his collection after selling his house in Loweswater.
"I've been collecting all this stuff for 30 years - other collectors will have the pleasure I had," he said.
Books, original sketches and portraits by renowned Lake District fell walker Alfred Wainwright sold for £14,500.
A pen and ink drawing entitled The Great Frost of 1895, Kendal reached a hammer price "well above estimate" at £800, James Moore from Mitchells Auction Company in Cockermouth said.
Beatrix Potter pieces, including first editions of the Tale of Mrs Tiggy Winkle and the Tale of the Flopsy Bunnies, went for £4,000.
A collection of handwritten letters estimated to fetch £2,500-£3,500 did not sell.
Works by Sheila Fell, from Aspatria, were sold for £63,100 with one, Allonby, reaching £21,000.
Davies said selling the house he had lived in for six months of the year for 30 years had been "heartbreaking".
Following the death of his wife, acclaimed novelist and biographer Margaret Forster, Davies "couldn't really face living there all on my own", he said.
His London house was "chocca" with other collections and he "regretfully" had to sell much of the Cumbria house's contents.
He gave his "best Wordsworth" to the poet's former home in Grasmere, Dove Cottage, and donated some Wainwright memorabilia to his official archives.