Tour of Britain return attracts thousands to Cumbria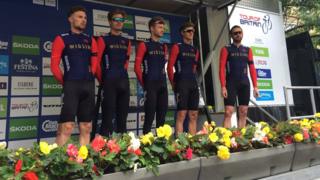 The second stage of the annual Tour of Britain race has attracted thousands of spectators in Cumbria.
More than 120 cyclists will tackle a 117m (188km) route from Carlisle to Kendal via Ambleside, Penrith, Keswick, Cockermouth, Grasmere and Windermere.
Riders including Olympic medallists Mark Cavendish and Sir Bradley Wiggins are among those tackling some of the county's most challenging roads.
Sections of the route were hit with floods in December after Storm Desmond.
More updates on the Tour of Britain and other updates from Cumbria.
'Open for business'
Chief Executive of the Tour, Hugh Roberts, said: "I think a cycle race can advertise to the UK and the rest of the world that Cockermouth, Keswick and Cumbria in general are open for business and you're putting those terrible months behind you."
It is estimated that the 2015 event generated almost £1.5m for Cumbria's economy.
Richard Rankin, a board member of Cumbria Tourism, said: "It's a massive boost and it shows confidence in what we can produce.
"The welcome everybody got here last time has clearly showed and that's the reason it's back again."