Further rain woe for flood-hit Glenridding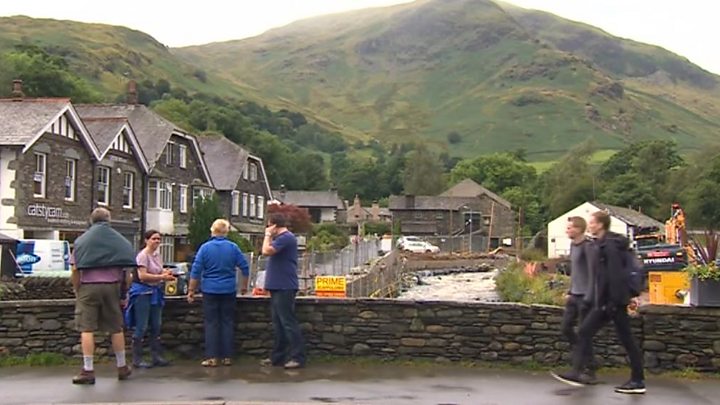 Heavy rain has led to fears of flooding in a Lake District village badly damaged by the winter storms.
Water levels rose rapidly in the beck running through Glenridding over the weekend, threatening nearby properties.
Stones and other debris were washed downstream into the village, where a 140m long by 1m high flood defence wall is being constructed.
The Environment Agency said work was "paused" due to high water levels, but had since resumed.
A spokesman said it was unlikely to have caused any damage to the ongoing project, which is due for completion by autumn.
Motorists on the A591, which reopened in May following repairs to a collapsed section, also had to contend with large amounts of standing water.
A Cumbria County Council spokesperson said: "Over the weekend the hills around the A591 at Thirlmere experienced the first significant rainfall since the road was reopened.
"The high volume of water running off Helvellyn carried with it material and loose stone ... blocking several of the culverts running under the road, causing it to flood in places.
"We will now be reviewing the weekend's events with partner organisations to establish what further remedial action may be required."