Cumbria appeal fund gives £5m to Storm Desmond victims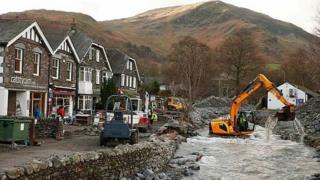 A flood relief fund set up to help victims of Storm Desmond in Cumbria has handed out £5m to households, organisations and charities.
Cumbria Community Foundation's Flood Recovery Appeal has received donations of more than £10m since floods battered the county in December.
More than 4,000 applications have been processed, benefiting almost 2,600 homeowners and groups.
Chief executive, Andy Beeforth said 1,500 homes remained uninhabitable.
"In the immediate aftermath the priority was to give urgent financial support to those whose homes had been affected by the flooding to help them pay for temporary accommodation and buy necessities such as clothing," he said.
"However, this statistic does not reflect the true situation as some people remained living in their flooded homes, particularly those who were uninsured, and those that have returned home report still having to deal with a number of issues."
The fund, which was set up the day after thousands of homes and business were damaged, received more than £1m in just five days.
One of those to benefit from the appeal was Millhouse Flood Action Group, which has received almost £8,000 to work with the Environment Agency on a flood prevention plan for badly-affected Hesket Newmarket.
Treasurer Philippa Groves said: "Unfortunately, no one thing is going to stop the floods, but with this help we can build up areas which will all help with the bigger picture."