Groin stab Brampton man severed artery slicing meat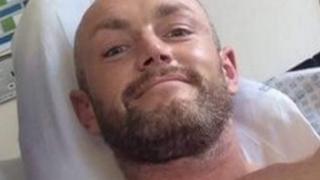 A man has had a lucky escape after accidentally severing an artery in his groin while slicing chicken.
Chris Sharples was cutting up the meat in his kitchen at home in Long Marton, Brampton, when the knife slipped and he stabbed himself, the Great North Air Ambulance (GNAA) said.
The 30-year-old was given blood at the scene and flown to hospital where he underwent emergency surgery.
Mr Sharples thanked his rescuers and said they were his "heroes".
Mr Sharples was treated at the scene with dressings used to stem soldiers' injuries in the field and was flown to the James Cook Hospital in Middlesbrough within 18 minutes, a spokesman for the GNAA said.
'Eternally grateful'
GNAA worked alongside North West Ambulance Service (NWAS).
Mr Sharples, said: "After I severed my artery, the air ambulance, played a major part in saving my life.
"I never thought that in one day, I could have been dependent on so many people. They all have my eternal gratitude, respect and love.
"I'm doing well and able to hobble, unassisted.
"I'm eternally grateful to all involved in saving me. I now have many heroes."