Midwife suspended over second Furness hospital baby death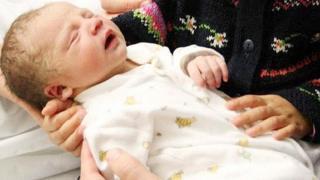 A baby died in the care of a midwife already under investigation into her role in the death of another child.
Lindsey Biggs was awaiting a hearing into the 2008 death of Joshua Titcombe when a second child died in March of this year.
Last week a hearing ruled Ms Biggs, along with a colleague, caused Joshua to lose a "significant chance of survival" at Furness General Hospital.
She has now been given a suspension order in relation to the latest death.
The Nursing and Midwifery Council (NMC) said it was "necessary" due to the "seriousness" of the allegations.
'Real shocker'
Joshua's father, James Titcombe, said: "I have been saying for years that the NMC could have acted sooner.
"Had the NMC acted properly she would not have been in the trust when this [the March death] happened.
"The people that suffer are the families. I think this ruling is a real shocker."
Joshua died from pneumococcal septicaemia and a lung haemorrhage when nine days old.
Ms Biggs continued practicing as a midwife until she was sacked by the University Hospitals of Morecambe Bay NHS Foundation Trust last month following an investigation into the death of the baby in March.
On 6 July, she was handed the suspension order, which prevents her from working in the profession while the NMC investigates.
The report alleges Ms Biggs failed to care for a high risk mother to the "level expected" and that potential failure contributed to the deterioration of the baby which subsequently died.
It also states the concerns indicated a "lack of basic midwifery skills" and there was a "real risk" of repetition.
'Correct actions'
An NMC spokesperson said: "The NMC is confident that we have taken the correct actions.
"At no point during the process did the employer raise any concerns about her current practice.
"Having now received a new complaint in relation to Lindsey Biggs, we feel that it is right that we review the actions that we have taken to date."
The NMC said an external adviser has been asked to undertake the review.
Last year the independent Kirkup inquiry found that a "lethal mix" of failings at the hospital led to the unnecessary deaths of 11 babies between 2004 and 2013.