Charles Mercer death: Inquest told of efforts to save driver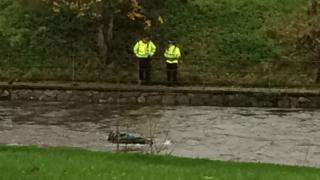 Frantic efforts were made to save an 86-year-old man when his car plunged into a swollen Cumbrian river, an inquest has been told.
Witnesses who saw Charles Mercer's car enter the River Kent in Kendal last November used a branch and a climbing rope in an attempt to reach him.
His body was eventually recovered by rescue crews.
Mr Mercer's green Suzuki Jimny crossed a kerb and went through barriers into the water on 9 November.
A verdict of accidental death was recorded on Mr Mercer, from Cartmel.
Two witnesses told the hearing how they used a tree branch and climbing rope to try to reach Mr Mercer as he was swept down the river near Nether Bridge.
But he did not respond and was last seen as he vanished downstream.
His body was found in the river the next morning. His car emerged near Romney Bridge after water levels had dropped.
The hearing was told Mr Mercer, known as "Joe" to his neighbours, had swerved to avoid a car at a pedestrian crossing.
Assistant coroner for Cumbria Robert Chapman, recorded a verdict of accidental death.