Midwife dismissed for 'failings' over baby's death at Furness Hospital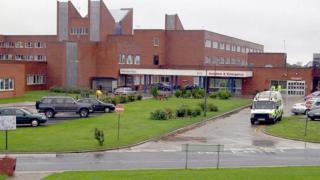 A midwife has been sacked in connection with the death of a baby at a troubled Cumbria hospital three months ago.
The baby died at Furness General Hospital which was investigated following the deaths of 11 babies and a mother between 2004 and 2013.
The Morecambe Bay Hospitals Trust said the actions of the midwife fell "fundamentally below acceptable standards".
The trust said the findings of the probe had been shared with the family.
Sascha Wells, director of midwifery, obstetrics and gynaecology at the trust, said the inquiry was launched to investigate whether anything could have been "done differently" in the case.
'Right to appeal'
She said: "We placed a staff member under precautionary suspension as per trust policy.
"Following a disciplinary hearing, the member of staff has been dismissed as the panel felt her conduct fell fundamentally below our acceptable standards.
"The staff member has the right to appeal the decision, so it would not be appropriate to discuss any further details."
Last year the independent Kirkup inquiry found that a "lethal mix" of failings at the hospital led to the unnecessary deaths of 11 babies.
The inquiry into the hospital found 20 major failures from 2004 to 2013. It called the avoidable incidents "serious and shocking".