North's 'national daily' newspaper 24 goes on sale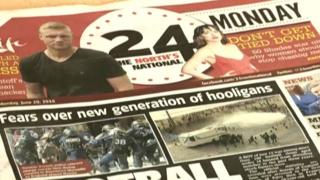 A new daily newspaper described as the "North's national" has gone on sale.
Called 24, the title is published by Cumbria-based CN Group and described as providing a "distinctly northern perspective" on big news stories.
The first edition of the 40-page tabloid went on sale earlier in the north of England and south-west Scotland, priced at 40p.
Editor Dave Helliwell said the paper aimed to be a "bright and breezy read" and would be politically neutral.
The paper will be published from Monday to Friday and distributed from Preston to Lockerbie and Hexham to Workington.
'Encouraging signs'
CN Group, whose titles include the North West Evening Mail, News & Star and Cumberland News, said the title would include a combination of national stories, alongside features and regionally focused columns.
Mr Helliwell added: "We hope our readers are those who want something a little different and not after the political views that a lot of the national newspapers give them.
"We will be concentrating on things happening in this part of the world.
"The take up from advertisers so far has been very encouraging, which gives us great hope that it will be a continued success.
"Today is the first day so obviously we don't know how this will go down with the newspaper buying public, but there are a lot of encouraging signs."
Mr Helliwell said the company had "looked closely" at the recent demise of the New Day, which closed just nine weeks after it was launched.
But he said 24 was "a different proposition" aimed at a different market.