Carlisle knifepoint robbery victim Rachel More honoured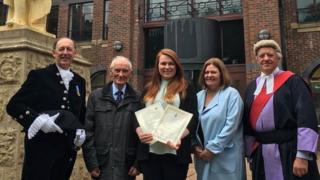 A woman who fought two knife-wielding robbers who tried to steal a bag containing her finished university dissertation has been honoured for her bravery with a cash reward.
The men targeted Rachel More as she was walking near the University of Cumbria campus in March last year.
But the 22-year-old fought back and only released the holdall when she was cut on the thumb.
She has been honoured and handed a £750 reward by Cumbria's High Sheriff.
Ms More, who now lives at Askam in Furness, was carrying her bag which contained her laptop on which she had completed her final year of university work.
The two men and a female accomplice were later jailed for almost 17 years at Carlisle Crown Court.
Speaking at a ceremony at the same court, Judge Peter Hughes QC said: "This was a devastating experience and it is right that her bravery in standing up to her robbers should be marked with this award."