Eden viaduct rail crossers 'dicing with death'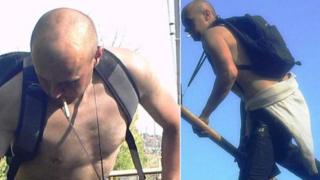 People crossing a track where trains reach speeds of 95mph (150kmh) are dicing with death, police have warned.
British Transport Police said the latest incident involved a man crossing the Eden Viaduct near Carlisle.
PC Jack Mottershead said: "The man used the viaduct as a shortcut to cross the River Eden despite the fact that high speed trains run along it.
"This man was literally dicing with death, what could have happened here doesn't bear thinking about."
PC Mottershead said they were keen to speak to the man.
This latest warning comes days after children believed to be as young as five were spotted playing on the track at the viaduct.