Cumbria crews use hand-held beaters to tackle heather fire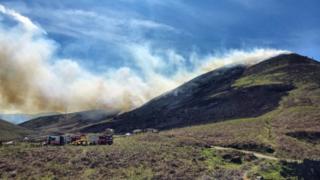 Firefighters have tackled a blaze in Cumbria which saw 100 hectares (247 acres) of grassland destroyed by fire.
The wildfire broke out at Mosdale between Penrith and Keswick at about 17:00 BST on Monday.
Cumbria Fire and Rescue Service and mountain rescue volunteers kept the fire under control using beaters and hand-held jets.
The fire service said it was not safe to tackle it at night but teams had returned first thing on Wednesday.
It is believed a disposable barbecue could have started the fire.