Lake District Wildlife Park welcomes male red panda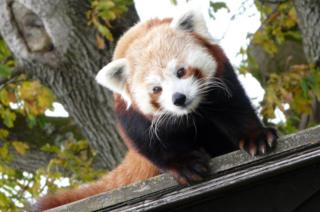 A Cumbrian nature reserve has welcomed another red panda.
Charu, a young male, has moved to Bassenthwaite's Lake District Wildlife Park having previously been at Dublin Zoo.
Park bosses hope he may mate with their female red panda, Meili, who arrived from Whipsnade Zoo three years ago.
Classed as endangered by the International Union for Conservation of Nature, red panda numbers have dropped by 50% in the last three generations.
Park manager Richard Robinson said: "We've been patiently waiting for this day for years.
"In the past we've been home to juvenile male red pandas before they move on to start breeding.
"The arrival of Meili at the park in 2013 marked the start of our own breeding opportunity and we're really excited she's now got a mate."
Slightly larger than a domestic cat, red pandas have reddish-brown fur, a long, shaggy tail and feed mainly on bamboo.
Their natural habitat is in the eastern Himalayas and south West China but hunting, poaching and forest clearance mean their numbers are now below 10,000.