River Rothay gravel removed after Grasmere floods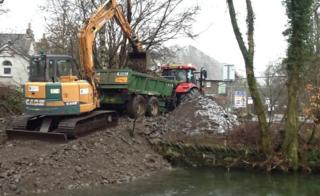 More than 1,200 tonnes of gravel deposited in a river in Cumbria during December's floods have been removed.
The work at various locations in the River Rothay in and around Grasmere will reduce the risk of blockages leading to further flooding.
It also allows the repaired flood defence to operate more efficiently.
Recovery work by the Environment Agency took three months and was hampered by the severity of the damage and limited access for diggers and trucks.
Howard Lawton, from the Environment Agency, said: "To allow us access to remove the deposits in the river, we had to take down part of the bank, which we have now rebuilt.
"The final stage of the project was to repair this damage on the farm land, enabling it to return to agricultural use."