Westmorland psychiatric unit closure: Trust 'sorry' for error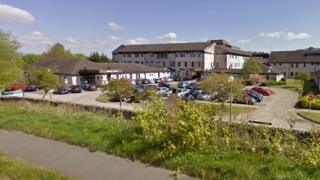 Health bosses have apologised after wrongly announcing the permanent closure of a psychiatric unit.
Cumbria Partnership NHS Foundation Trust said Kentmere inpatient unit at Westmorland General Hospital was to close due to safety issues raised by the Care Quality Commission.
It said it had "exhausted" all options to improve the "longstanding issue".
However, the trust now says the closure is only temporary and is "sorry" for the confusion and "worry" caused.
The report, published in March, outlined that the Kentmere Unit and associated Health Based Place of Safety did not meet the expected standards set out in national guidance, including same-sex accommodation.
This "placed people who use these services at risk and did not provide an environment which supported good care and treatment".
'Great anxiety'
The trust said the 12-bed ward, which treats people with acute psychiatric conditions, was to close in June.
Chief executive, Claire Molloy, said the decision to close the unit "was not taken lightly", but it was temporary while alternatives were introduced.
She said: "We recognise that we have not got our messages right on this occasion.
"We want to be absolutely clear that this decision has had to be taken entirely because of the restrictions with the environment on the Kentmere site... we would be failing our patients if we continued to tolerate the risk to the quality and safety of care the environment places on us.
"We know that this has caused great anxiety and concern among patients, staff and partners and we are genuinely sorry for the confusion or worry people have felt."
The trust said a consultation on the site's long term plans would take place later in the year.