Three rescued after Cumbria fishing boat hits wind turbine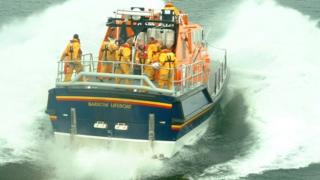 Three men have been rescued after their fishing boat collided with an offshore wind turbine and began to sink.
The 34ft (10m) catamaran crashed into the turbine off the coast of Cumbria, about 2.5-miles (4km) off Walney Island, near Barrow.
An RNLI lifeboat from Barrow rescued the crew and brought them to shore shortly after 02:50 BST.
One of the men, aged 58, suffered a head injury and was taken to hospital for treatment.
The fishing vessel had been travelling from Ravenglass at the time of the incident.
The RNLI towed the vessel back to shore.