Furness midwives accused of Joshua Titcombe death failings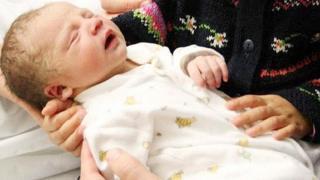 Two midwives have appeared before a misconduct hearing in connection with the death of a newborn baby.
Joshua Titcombe died nine days after his birth at Furness General Hospital in Cumbria in October 2008.
Lindsey Biggs and Holly Parkinson are accused of not calling a doctor when his condition deteriorated and keeping inadequate notes.
Both deny all charges, apart from Ms Parkinson admitting not documenting advice about three-hourly observations.
The baby was born three weeks early, and his mother, Hoa Titcombe and her husband James, claimed they repeatedly told hospital staff she felt unwell the day before giving birth and was concerned about catching an infection from her young daughter who had been sent home ill from nursery.
Joshua was given oxygen as he was breathing slowly, and Mrs Titcombe was prescribed antibiotics after her husband told staff she felt unwell and was cold.
'Missed chances'
The parents were concerned that the mother's condition might have affected the child and Ms Parkinson was advised by paediatrician to carry out three-hourly observations, on the baby, who was placed in a post-natal ward.
He later collapsed and an emergency team tried to resuscitate him, before he was transferred to another hospital and then taken to the Royal Victoria Infirmary, where he died of sepsis.
'Low temperature'
In 2011 an inquest heard that midwives repeatedly missed chances to spot and treat the serious infection which led to his death.
Opening the case at the Nursing and Midwifery Council (NMC) hearing, Amanda Hamilton said the pair's alleged failures could have contributed to his death or caused him to lose a significant chance of survival, and said their actions amounted to misconduct.
She said: "It is the NMC's case that during the day shift of October 27 Holly Parkinson failed to record the advice given to her by the paediatrician that the baby required three-hourly observations, but further, that she failed to escalate a finding of the baby's low temperature between 4pm and 9pm.
"Also, that Lindsey Biggs failed to ensure that three-hour observations were maintained accordingly between 3am and 6.50am, and that Ms Biggs failed to escalate findings of low temperature to a paediatrician so the baby could be examined further and failed to record them in the maternal or baby notes."
The hearing in London continues.