Rare Chinese vase discovered in Kendal fetches £110,000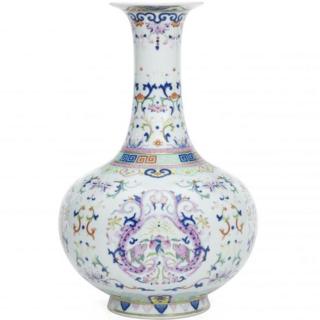 A rare Chinese vase "forgotten" for years in a living room in Cumbria has sold at auction for more than £100,000.
The 18th Century Famille Rose Chillong bottle vase, thought to have graced a Chinese imperial palace, was discovered at a Bonhams valuation day in Kendal.
The unnamed owner said the vase was "plonked" on top of some furniture and she took it along at the last minute.
Bonhams senior valuer Chris Jarrey said they were "bowled over" when the vase was unwrapped from the owner's towel.
'Nice spoons'
He said: "She had a bag full of items, of which this [the vase] was the last item she brought out expecting it to be the least interesting.
"She had a box of quite nice silver spoons and one or two other bits and pieces, and then she just pulled this out, it was wrapped up in an old towel and she could see the expression on our faces."
Mr Jarrey said the vases were "highly desirable" as they were produced for Chinese emperors.
Bearing the six-character seal mark of the great Emperor Qianlong, the vase was expected to fetch £50,000-80,000.
It sold for £110,500 at Bonhams Fine Chinese Art sale on Thursday.
The buyer's identity has not been revealed.