School bus crash teenager Kieran Goulding skate park opens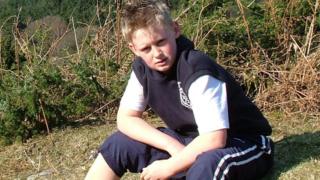 A BMX and skate park has been created in memory of a teenager who lost his life in a school bus crash in Cumbria.
Kieran Goulding, was 15 when the coach was hit by a car, on the A66 near Braithwaite in May 2010.
Another Keswick School pupil, Chloe Walker, 16, died, as did the car driver - 68-year-old Patrick Short.
Tracey Nicholson, Kieran's mother, organised a number of initiatives to raise funds for the £250,000 facility in Whitehaven, named Kie Park.
Young people who who will use the skate park, which opens on Saturday, formed part of the charity's committee.
Ms Nicholson said that since Kieran's death she had put his birthday money into the park, and would continue to donate to its maintenance and upkeep.
Alison Freeman, BBC Look North
It was warm sunny day in May when reports of school bus crashing on the A66 came through late one afternoon.
Information was scarce but when we arrived on the scene it became clear from the emotional response of the emergency services that they were dealing with a gravely serious incident.
We learnt that two children, including Kieran Goulding, had died.
At the inquest the following summer it was revealed that the two teenagers were killed after being thrown out of the bus window.
The coroner said they may have survived if they had been wearing seatbelts.
Ms Nicholson said that since her son's death she had had tried to complete things he would have liked to have done himself, and the project was one of a number on the list.
She said: "I've cried all the way through this journey - but the tears will be different when I see everybody on it.
"It's because I'll know why it's there, what they are going to do and that they are going to enjoy it."