Lake District 'yellow line' artwork splits opinion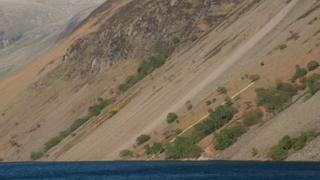 An artwork featuring a yellow line on a hillside has divided opinion, with some branding it "vandalism".
"Everything is Connected" is a piece of thick cloth, stretching 110 metres (360 ft) from an oak tree down to the Wastwater shore in Cumbria's Lake District.
Artists Rob and Harriet Fraser say the work, which will be in place for two weeks, aims to promote discussion about the landscape.
But viewers remain undecided.
Writing on Facebook, Kate Lowe said: "It's not art, it's vandalism."
Jane White added: "Nothing but an eye sore. Totally ruins a beautiful place. Get rid."
But Thomas Fletcher wrote: "I live near Wasdale and love what you've done."
The yellow line is part of a the Long View project, which will focus on seven trees and involve schools and local communities.
Artist Mr Fraser said: "We want to use this tree as a focal point to promote discussion of the landscape, to show how everything is connected.
"We did want debate, but we weren't prepared for some of the vitriol that came out. It was a bit surprising, but it has to be said we've had a lot of support.
"Bad art isn't controversial. No-one talks about it."