Storm Desmond: A591 reopens ahead of schedule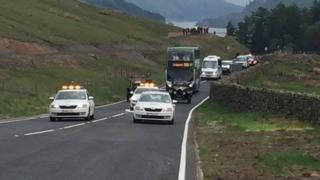 A major road in the Lake District which collapsed during Storm Desmond has reopened three weeks ahead of schedule.
A three-mile (4.8km) section of the A591 was closed in December after a landslip between Dunmail Raise, north of Grasmere, and Thirlmere.
During the closure local people faced long diversions, and a shuttle bus had to be put on for school children.
Environment Minister Rory Stewart and Cumbria County Council's leader opened the route at 08:30 BST.
The opening - ahead of the summer tourist season - has been welcomed by local businesses.
Eric Worsley, a business adviser to hotels in the area, said there had been a noticeable loss of trade.
He said: "The catchment area for spring trade for the Lake District is very much Yorkshire, Lancashire and so on which are also places which have had floods.
"It's almost been a perfect storm. In fact someone did comment to me that it is worse than the foot and mouth year because at least during the foot and mouth year we knew that there would be an end to it."
One of those waiting to drive over the newly repaired route was Bill Bewley.
Before setting off in his vintage car, he said: "Well it's going to be a good feeling to figuratively represent those business that have been struggling up to now, and the achievements of the engineers who have done this quicker than anybody thought."