Outgoing Cumbria PCC Richard Rhodes reflects on 'successes'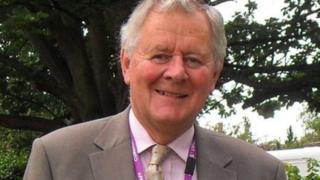 The outgoing Cumbria Police and Crime Commissioner (PCC) has launched his final annual report.
Richard Rhodes described it as an honour and privilege to be the county's first PCC, and thanked members of his team and the public.
He said he counted among his successes improved services for victims of sexual assault, and the setting up of a county-wide CCTV network.
Mr Rhodes also congratulated his successor Peter McCall.
He said: "Three-and-a-half years ago when I was elected there wasn't a job profile.
"Very quickly I came to understand that while the constabulary was good at tackling crime and anti-social behaviour there was a particular need to improve services for victims.
"Furthermore, Cumbria was one of only two police force areas in the country that did not have a sexual assault referral centre.
"I am particularly proud that together with multi-agency partners we now have an excellent service supporting victims giving consistent and comprehensive support when they are at their most vulnerable."
Mr McCall, who stood as the Conservative candidate and takes over as PCC on Thursday, is a retired Army colonel who served with the Royal Logistics Corps, most recently in Sierra Leone.