Objects left inside patients in hospital 'never events'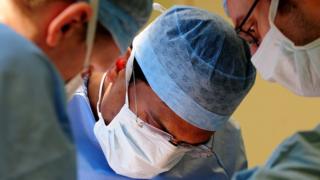 Foreign objects were left inside 12 patients in a series of "never events" at hospitals in Cumbria.
So-called never events are categorised by the Department of Health as so serious they should never occur.
Between November 2012 and March 2016 there were 22 recorded at North Cumbria and Morecambe Bay Trusts, according to figures released by the NHS.
A spokesman for The Royal College of Surgeons said the failure to ensure patient safety was "concerning".
North Cumbria University Hospitals NHS Trust recorded 15 never events, including nine retained foreign object post-procedures and five wrong site surgeries - where operations or procedures were carried out on the wrong organ or body part.
Foreign objects include any items that should be counted and checked before and after the procedure is completed, including swabs, needles, gauze and guide wires.
The trust's medical director, Derek Thomson, said they recognised any level of harm to patients was unacceptable and they would continue to work towards "reducing harm" where they could.
'Devastating and unacceptable'
University Hospitals of Morecambe Bay NHS Foundation Trust recorded seven incidents, including foreign objects left inside patients, operations carried out on the wrong person and wrong site surgery.
Dr David Walker, medical director of the trust said: "The impact on those involved can be devastating and that is unacceptable.
"Every never event and serious incident is investigated thoroughly and used as a learning opportunity to improve our services and make them safer."
Leslie Hamilton from The Royal College of Surgeons, said: "It's down to the teams and how they perform and work together, so it's really important that we look at the systems in place and how the teams are functioning.
"Having that number of never events is concerning obviously, and the college would like to see no never events happening."
North Cumbria University Hospitals NHS Trust was branded one of the "most challenged" health trusts in a report by NHS body Success Regime which was carried out in response to concerns raised by watchdog the Care Quality Commission (CQC).
Previously failing University Hospitals of Morecambe Bay NHS Foundation Trust was taken out of special measures in December after the CQC rated it inadequate and in need of "intensive support" in 2014.