Keswick's glass flood protection panels repaired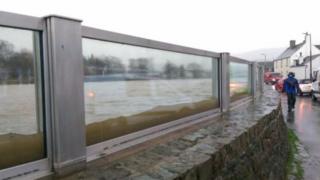 Work has begun to repair glass panels that form part of a Cumbrian town's flood defences.
The barriers at High Hill in Keswick were damaged by debris carried along the River Derwent during December's storms.
The river overtopped the panels but, before that, they withstood the waters, the Environment Agency (EA) said.
Flood recovery manager Kath Tanner said they were an "innovative form of flood defence".
"They allow that high level of flood protection while also allowing people to still see the river and still engage with the river, rather than it just being a solid wall," she said.
"I don't know of many other places where they've actually been used, but they've proved very, very successful."
The panels are designed to withstand the impact of flood water and large floating debris such as trees.
Repairs to a cracked panel were "mainly cosmetic" and the seal checks were routine, Ms Tanner said.
The EA is spending £10m inspecting and improving flood defences in the county.
Consultation between it, the county council, residents and businesses is continuing to decide whether further protection is needed in the town.
In January, chairwoman of the Keswick Flood Action Group, Lynne Jones, told the Environment, Food and Rural Affairs Committee too much attention had been given to protecting wildlife, including a local scheme to protect freshwater mussels, rather than protecting people.
"My sympathies to the mussels, but I need my community protected," she said.