Ex-prisoners run burger van by Barrow police station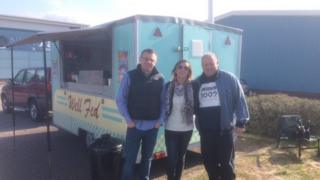 Former prisoners recovering from drug and alcohol addiction are running a burger van outside a police station.
It is overseen by The Well charity, which helps them work, learn skills and improve their relationship with police.
Chief executive Dave Higham said some of the people they help "have never worked in their life".
Officers in the nearby station in Barrow, Cumbria said they welcomed the venture as it "teaches skills and builds bridges".
'Don't judge us'
Paul, who was an addict for 22 years, said he volunteers on the van "because for many years I just took."
"I carry a lot of guilt and shame of my past and this just helps me to integrate with people, to learn to communicate again really with people."
Mark "lost everything through alcohol" and said the venture "makes me feel like I've got a worth".
He said they had a good relationship with the Barrow police officers.
"They don't judge us, we don't judge them," he said.
Charity staff member Jane Wilkinson, also an ex-addict, said it was good for police to see offenders were "just normal people" and being across the road from the station was "really beneficial" in making their recovery visible.