Lake District runners warned of buzzard attacks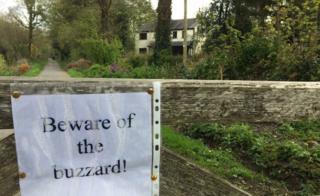 Runners are being warned to "beware the buzzard" after a spate of dive-bombing attacks in the Lake District.
About a dozen people say they have had their head pecked or clawed when running near the railway footpath in Broughton-in-Furness.
Named locally as buzzardgate, a "beware of the buzzard" warning sign has been put up at the entrance of the path.
Runner David Beresford said: "I could see its eyes as it came towards me and I swear it was enjoying itself."
Mr Beresford said he was swooped on by the bird while running near the footpath and was left "scratched and bloodied" in the attack.
"So I'm running through the field, and the next thing, 'bang' on the back of the head again - which I couldn't believe - and I could see this thing doing another circle and it came back towards me like a missile," he said.
Eye out 'concern'
A junior running club has taken to carrying a deterrent in preparation for an attack.
Coach Jane Russo said: "It's not funny if a child turns round and it takes their eye out - it's a bit of a concern.
"It's actually dive-bombed one of the coaches, so we've had a few adults standing there with sticks."
Another runner, David Blinkhorn, described another attack while he was running early one morning.
"I felt like a massive slap on the top of my head and there was a buzzard that had obviously cut my forehead and cut close towards my eye.
"I looked round and I couldn't see it, and then it got me from the other side."
Bird expert Mike Carrier said the buzzard was likely to be holding its territory during nesting season and that "folk will be seen as a threat".
The buzzard is the most common and widespread bird of prey in the UK and is typically found in Scotland, Wales and the Lake District.
The protected species' wingspan can vary from 48in (122cm) up to 60in (152cm).