'F1' fraudster James Cox lied to get £65k company director job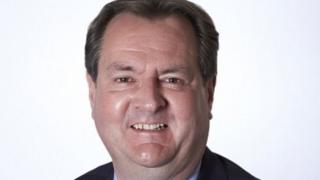 A convicted fraudster has admitted lying to get a job at an energy firm he then defrauded of more than £40,000.
James Cox made up references and a CV to land the £65,000 finance director role at Britain's Energy Coast (BEC).
He hid the fact he has twice been jailed for fraud, once after taking £2.8m from a previous employer to supposedly set up an F1 racing team.
The information emerged as Cox, 51, admitted six new offences before Carlisle magistrates.
Cox, who is of no fixed address and was living in a budget hotel in Weston-Super-Mare, forged a signature to fraudulently obtain £40,687 from Cumbria firm BEC in May last year, which he spent on a Jaguar car, Carlisle Magistrates' Court heard.
He left BEC through mutual agreement in August 2015 and suspicions about him were raised by a later audit.
Cox has admitted committing fraud to get the job, obtaining the £40,687 through fraud and four counts of transferring criminal property, which related to his swapping the Jaguar for other cars.
'Gentleman racer'
The court heard Cox's full name is James Alexander Hayden Cox, although he has also used the alias of James Munroe.
He has previously been sentenced to two five-year jail terms for fraud offences.
The first was in 2000 when he took £2.8m from the firm he was working for to set himself up as a "gentleman racer".
He bought a racing car and portrayed himself as the founder of an F1 team, complete with a press-launch attended by several celebrities.
He was jailed again in 2007 for further fraud offences.
Cox was remanded in custody until his sentencing at Carlisle Crown Court on 20 May.
BEC said they have cooperated with the police investigation but could not comment further until the court case was closed.
The company is jointly owned by the Nuclear Decommissioning Authority, Allerdale Borough Council, Copeland Council and Cumbria County Council.