Cumbria Police weapons amnesty see hundreds handed in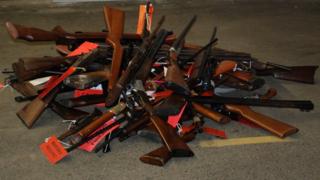 More than 300 weapons including swords and guns have been handed in to Cumbria Police over the past two-weeks as part of an amnesty scheme.
The drive was to allow people to surrender weapons without being prosecuted for possession of them.
The 314 weapons included air firearms, shotguns, pistols, rifles, a crossbow, swords and an axe as well as 218 knives.
Police said the aim was to keep the weapons out of the hands of criminals.
Supt Mark Pannone said: "We are lucky in Cumbria that there isn't a big gun or knife crime issue compared to other force areas, however the fact remains that such weapons can be very harmful in the wrong hands.
"Many of these weapons were simply sitting in houses unused, some were antiques or trophies of war that have been passed down through generations.
"The danger of these weapons is that they could fall into the hands of a criminal which could cause serious or fatal injury."
The weapons drive ran from 4 April to 18 April.