Flood-hit Kendal given £24m defences cash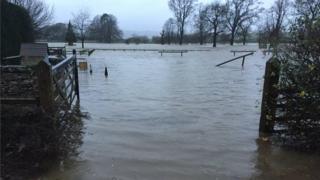 One of the towns most badly affected by December's storms is being given £24m for flood defences.
About 3,000 properties in Kendal were damaged in the storms, more than in any other town in Cumbria.
The cash is part of an extra £700m announced in the budget.
Jonny Gios, a community worker in the town, welcomed the money but said residents needed to be consulted about "what defences are being put in place and how that is going to work".
Floods minister and Penrith and the Border MP, Rory Stewart, said "a range of natural and man-made defences" could be implemented and the work would "look at the county's river catchments as a whole".
The government said options including upstream storage of water and new flood walls would leave 1,340 properties in the town "better protected".
It expected to spend more than £43m on flood defence schemes across the county up to 2021, it said.
The Environment Agency plans to spend £10m on repairs in Cumbria.
Just under 5,000 homes and businesses were damaged during Storm Desmond across the county.