Cumbria weapons amnesty nets 100 weapons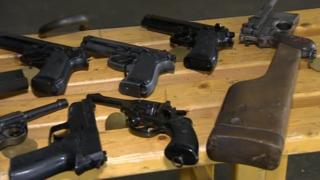 An amnesty in Cumbria has resulted in about 100 weapons including a crossbow being handed in to police.
The haul also included 75 knives, 10 air rifles, five shotguns and several rifles.
The amnesty runs until 18 April and weapons can be handed in at police stations including Carlisle, Penrith and Workington.
In 2014, the maximum jail term for illegal possession of a firearms was increased from 10 years to a life term.
A spokesman for Cumbria Police the region has a large number of people who hold licensed firearms and store them appropriately.
"However, we are very aware that there are a number of people who have collected firearms over years that sit unused," he said.
"If you are one of these people why not take advantage of this surrender period. It could save somebody's life."