Furness midwife cleared over Joshua Titcombe death failings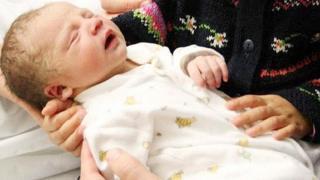 A midwife accused of failings that led to the death of a newborn baby has been cleared of any wrongdoing.
Gretta Dixon was alleged to have failed to refer Hoa Titcombe for a medical assessment on 26 October 2008.
Mrs Titcombe's baby Joshua was born the next day at Furness General Hospital in Cumbria, but died nine days later.
A Nursing and Midwifery Council hearing concluded there were "inconsistencies" in some of the accounts and the allegation was found not proved.
Miss Dixon told the hearing in London she had "no recollection" of Mrs Titcombe saying she felt unwell and was "certain" she would have recorded it in the patient notes.
Mrs Titcombe and her husband James, from Dalton-in-Furness, claim they repeatedly told hospital staff she was feeling unwell.
The expectant mother was apparently concerned about catching an infection from her young daughter who had been sent home from nursery after falling ill.
'Mild headache'
Miss Dixon, who qualified as a midwife in 1998, assessed Mrs Titcombe the day before she gave birth.
She said she performed an antenatal assessment, took a urine sample and checked the results of a previous urine test which showed no signs of any infection.
The only issue Mrs Titcombe reported was a "mild headache" and feeling tired, Miss Dixon added.
Panel chairman Richard Davies said all the witnesses had "sought to recall events some seven and a half years ago as well as they could" but that there were "inconsistencies" in some of the accounts.
"The only cogent piece of evidence could be found in the patient's notes... which were recorded contemporaneously.
"They were written before any sort of issues came to light. The panel found that these notes were accurate and reliable."
Miss Dixon did not comment after the hearing concluded.
An independent inquiry into the University Hospitals of Morecambe Bay NHS Trust last year found 20 major failures from 2004 to 2013 at Furness General Hospital and concluded there were "lethal failures."
Eleven babies and one mother died after being cared for at the hospital during this time.