Flood-hit A591 to reopen ahead of schedule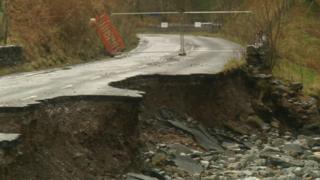 A major road in the Lake District which collapsed during Storm Desmond is to reopen ahead of schedule, it has been confirmed.
A three-mile (4.8km) section of the A591 was closed in December because of flooding between Dunmail Raise, north of Grasmere, and Thirlmere.
Transport Secretary Patrick McLoughlin announced it will reopen on 13 May rather than at the end of the month.
He said it was "great news" for Cumbria's economy.
Mr McLoughlin visited the county to see how repairs to the A591 and the storm-damaged Pooley Bridge and Eamont Bridge had progressed.
Tim Farron, Liberal Democrat leader and MP for Westmorland and Lonsdale, said the local economy was losing up to £1m each day the route remained closed.
"I have long been pressing for this to happen. It is local businesses that are bearing the brunt," he added.