Prince Charles returns to post-flood Cumbria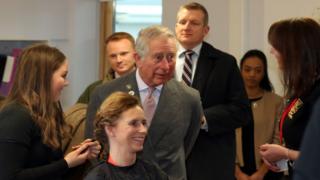 Prince Charles has returned to Cumbria, three months after witnessing the devastation caused by Storm Desmond.
Raising a glass at the Sun Inn in Pooley Bridge, he declared Cumbria "open for business".
The village's 250-year-old bridge was completely destroyed in December's floods, cutting the village in half and forcing long diversions.
The prince met contractors who installed the temporary bridge that was officially opened on Sunday.
Cumbria County Council leader Stewart Young said the fact the Prince of Wales had fulfilled his promise to return was "tremendous".
Yanwath primary school pupils lined the street to the new bridge and waved Union flags as the prince walked past, while Penrith Brass Band played the Dad's Army theme tune.
Speaking to a family of tourists who were staying at a local campsite, the prince asked if they had been put off by the flooding.
Mother-of-three Catherine Bennett said she told him she had not, and added: "When we said we were in a tent he looked very surprised."
The prince also met Cameron Harrison, head chef at Pooley Bridge's Crown Inn, who described their discussion about the menu and cooking fat for chips as "surreal"
"It's good exposure and it's good to have him come and acknowledge the problems and acknowledge the community spirit," he said.
Students and staff at the Applied Learning Centre at Ullswater Community College in Penrith were also on the royal itinerary.
The prince said he was "hugely impressed" by the performances put on for his visit and was "thrilled to see just how much talent and real potential there is in Penrith and round about".
Penrith and the Border MP Rory Stewart said the visit showed "Cumbria at its very best".
"You've got hundreds of people lined up on the streets. It's wonderful."