Cumbria bridge destroyed by floods replaced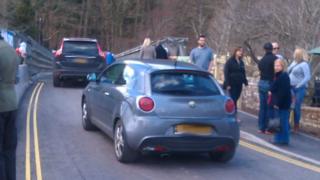 A temporary replacement for a 300-year-old bridge washed away by floods has opened.
The former stone bridge across the River Eamont at Pooley Bridge was totally destroyed by Storm Desmond in December.
Cumbria County Council had planned to have a £300,000 replacement in place for Easter, but the crossing has now opened a week early.
The loss of the bridge had effectively cut off the village from the south.
Plans for a permanent replacement have been approved in principle, although no construction date has been set.