Cumbria gets further £82.6m for flood work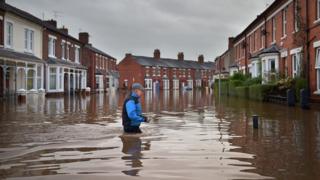 The government is giving a further £82.6m to help repair flood damage in Cumbria.
The county had already been awarded £39m to aid recovery in the wake of Storm Desmond.
More than 5,500 properties were flooded and parts of the A591 road washed away in the December floods.
Transport minister Robert Goodwill said road repairs are key to allow businesses to trade properly again.
He said: "Keeping Cumbria moving is essential to local businesses in the area; a key part of doing this is being able to fund repairs to local transport infrastructure and provide expertise on the ground to repair roads like the A591."
Stewart Young, leader of Cumbria County Council, said: "This really is great news and this money will go a very long way to helping Cumbria rebuild its infrastructure following the floods."