Roy 'Chubby' Brown: Egremont Council show ban 'a disgrace'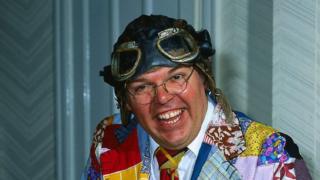 A Cumbrian council has voted to ban a show by controversial comedian Roy "Chubby" Brown.
Egremont Town Council ordered the Market Hall show to be cancelled because it was "inappropriate".
More than 200 people who have bought tickets for the event at the council-owned venue in October will be refunded.
The comedian's manager, Stuart Littlewood, accused town councillors of being "arrogant and small-minded".
Earlier this month Ashfield District Council in Nottinghamshire also banned a planned performance by the comedian, who is known for his explicit material.
Councillors opted to ban the event by a single vote after deciding the comedian's act was too offensive.
Egremont North councillor John Burns said he stood by his decision to vote in favour of a ban.
He said: "There was a feeling that the event would not be appropriate.
"I know there are some people who are against that, but I stand by my decision and that of the council."
But Mr Littlewood said: "It's absolutely disgusting and very disappointing for Chubby's fans.
"These councillors are just small minded. We always put up posters telling people who are easily offended to stay away.
"I can count on the fingers of one hand the number of people who have come to a show and have later complained.
"These councillors are arrogant in the extreme. It's a disgrace. People can decide for themselves who or what they want to see."