Walney wind farm: Seabed survey ahead of expansion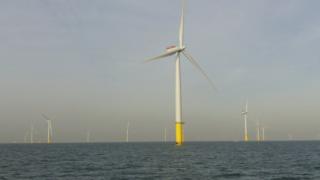 The seabed off the Cumbria coast will be scoured for unexploded bombs as part of plans to double in size one of the world's largest offshore wind farms.
The Walney facility has 102 turbines and Danish owner Dong Energy intends to add 90 more.
Once completed, it will cover about 55 sq miles (145 sq km), Dong said.
Programme director Andrew Cotterell said the geophysical survey was "an important step before we can safely begin offshore construction".
Portsmouth marine environmental services company Fugro EMU will start surveying this month, Dong said.
The firm will be looking for any seabed obstructions, including unexploded World War Two ordnance.
The expanded wind farm is expected to be fully commissioned by 2019. It is one of four in the area.