Flood-hit Cumbria A591 could reopen early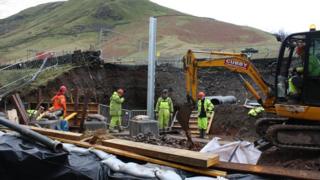 A major Lake District road which collapsed during Storm Desmond could open at least a week earlier than expected, the council has said.
A three-mile (4.8km) section of the A591 was closed in December because of flooding between Dunmail Raise, north of Grasmere, and Thirlmere.
Cumbria County Council highways cabinet member Keith Little said there was "a tremendous amount of work going on".
Business owner Andrew Hunter said "every day counts".
The A591 is the only major route through the central Lake District.
A 106m (347ft) retaining wall is being constructed alongside the road to provide greater protection from the effects of erosion, Highways England said.
Work was continuing seven days a week to reopen bridges damaged by the floods across the county, Mr Little said.
"We just have to be mindful we are still in that period, I know we're into spring, but we often get difficult weather conditions."
The road had been due to reopen by the end of May. The council warned completion was still subject to unforeseen delays.
Mr Hunter, who owns Grasmere Gingerbread, said the road closures had reduced the number of large coach trips leaving trade 40% down.
"Obviously any improvement on the end of May is something that we welcome and look forward to," he said.