Pregnant mum 'told accused Furness midwives she was ill'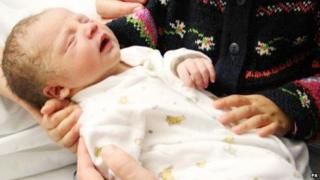 The mother of a baby that died nine days after his birth has told a tribunal she repeatedly informed midwives she felt unwell.
Hoa Titcombe described events leading to the birth of her son Joshua in October 2008 to a Nursing and Midwifery Council hearing in London.
Midwives Catherine McCullough and Gretta Dixon are accused of failing to ensure Mrs Titcombe was properly assessed at Furness General Hospital in Cumbria.
The tribunal is due to end later.
Mrs Titcombe told the tribunal she had been looking after her daughter, who was unwell, when her waters broke three weeks early on 25 October.
Describing her arrival at the maternity unit, she said: "I was crying my eyes out worried about the baby being born early.
"I said I felt unwell and told the lady I was worried about catching something from my daughter. I was worried about infection."
Major failures
Under questioning by Keiran Galvin - representing Ms McCullough - Mrs Titcombe said she saw two midwives that night but could not remember exactly how long she spent with each.
Mrs Titcombe said she was told to go home after a discussion about staying or leaving and agreed she was checked over "with a good degree of care".
Returning the next morning as planned, she said she told the next midwife she had not slept well, said she felt unwell and was advised to take paracetamol.
In 2011, an inquest into the death of Joshua found midwives repeatedly missed chances to spot and treat an infection that eventually led to his death.
An independent inquiry into the University Hospitals of Morecambe Bay NHS Trust last year found 20 major failures from 2004 to 2013 at Furness General Hospital and concluded there were "lethal failures."
Eleven babies and one mother died after being cared for at the hospital during this time.
The hearing continues.