Storm Desmond flood victims 'will need help into 2017'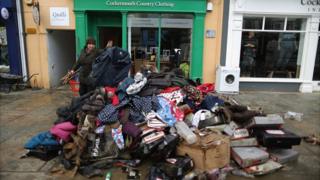 Victims of the Storm Desmond floods in Cumbria will need help into 2017, trustees of an appeal fund have warned.
More than 5,500 properties were flooded last December - three times the figure of the last major floods in 2009.
So far the Cumbria Flood Recovery Appeal has raised £5.7m, with £2.5m already distributed to those in need.
But appeal chief executive Andy Beeforth said the fund would need to grow to £9.4m to satisfy estimated future demand.
Mr Beeforth said up to 35 grants are being awarded every day, with an average of £188,000 handed out each week.
But he added that rate could not be sustained beyond July.
He said: "Many families have not returned to their homes, hundreds of homes are not yet dry or ready to be occupied, others are only just uncovering problems and issues and costs they had not expected."
Mr Beeforth said they had responded to the "immediate crisis phase" but would need to continue to support some families "for 12-18 months after the floods".
In 2009 a similar fund raised and spent £3m.