Cumbria flood burglar Martin Howlett jailed for five years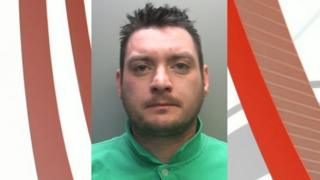 A burglar who targeted homes which had been affected by flooding has been jailed for five years.
Martin Howlett, 31, admitted burglary, theft and attempted burglary in the wake of Storm Desmond hitting Carlisle.
Howlett, of Warwick Road in Carlisle, received jail terms for each offence when he appeared at Carlisle Crown Court for sentencing.
Temporary Det Insp Vicki Coombes, of Cumbria Police, said Howlett's actions were "despicable".
The charges relate to thefts from properties on Petteril Street and Eldred Street on 9 January.
Det Insp Coombes said: "Martin Howlett targeted flood-affected properties in order to gain from people who had been victims of December's devastating floods.
"His actions were despicable as communities rallied to support each other.
"Howlett is now in prison and we are glad that he has been brought to justice for his crimes and the sentence reflects that."